Do you know the saying: "To appreciate the beauty of a snowflake it is necessary to stand out in the cold."? Bullshit! Play the favourite winter themed online casino slots at Eat-Sleep-Bet Casino from the comfort of your cosy bed and you too can not only appreciate the beauty of the snowflakes on the video slots' backgrounds but more importantly big coin wins also. Winter is here to stay and the short dark days are not going anywhere any time soon either. So, make the most of this time of the year by winning cash on the most popular snowy online casino slots at Eat-Sleep-Bet Casino!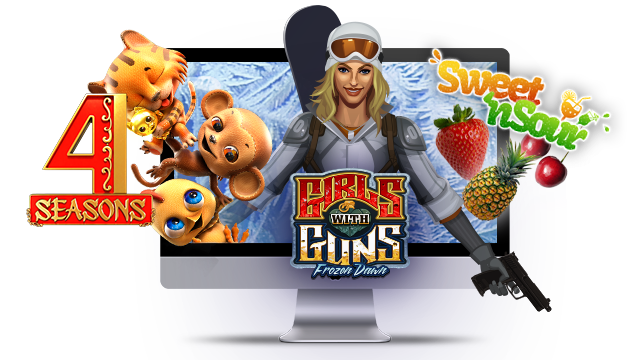 Girls with Guns II - Frozen Dawn
A lot was said already about this video slot from Microgaming in one of our previous Eat-Sleep-Bet Casino blog posts dedicated to casino games with the highest RTP. But let us remind you what Girls with Guns II - Frozen Dawn is about briefly again. In this 5 reel slot with 243 ways to win and 98% RTP you get to meet hot girls with big guns on the snowy mountain slopes in a James Bond-like style. As cheesy as it might sound, it's actually pretty cool with lots of movie like video animations, different bonus games and various special features. So, give it a shot. With the online casino slot Girls with Guns II - Frozen Dawn you can't miss the winning target!
Do you love winter just as much as you love the other seasons? In Betsoft video slot 4 Seasons you can experience them all in just a few moments. Embrace the Chinese zodiac on 5 reels with 3 rows of this online casino slot and spin it with cutely cartooned animals, including a golden cat representing the Wild. Yin Yang Scatters award you with up to 20 Free Spins but unfortunately don't pay out themselves. In the lower left corner of the online casino slot 4 Seasons you find The Wheel of Fate, bearing images of twelve animals of zodiac. The wheel turns with every 30 spins, mimicking the passage of a month and marking the animal it lands upon as "golden". That symbol will then come attached with a 10x Multiplier, giving you a chance to seriously boost your winnings. The animals to the left and right of the golden symbol become "silver" and are worth a 5x Multiplier. The 3 animals left and right of the silver animals pay a 2x Multiplier. Every 90 spins, the background of the entire game changes, as the new season begins. Remember! No matter the weather, on the video slot 4 seasons the winnings happen all year round at Eat-Sleep-Bet Casino.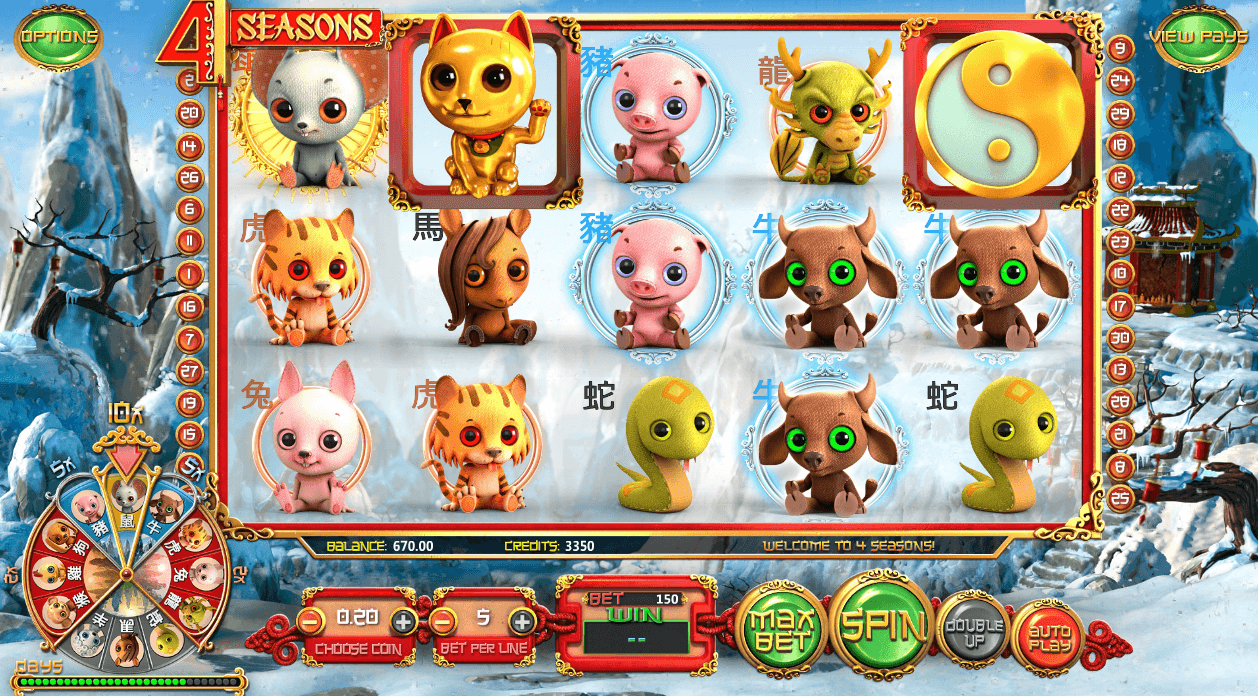 Remember the epic fail of Pragmatic Play last Christmas when they came up with the online casino slot Leprechaun Carol, which was nothing more but the old well-known video slot Leprechaun Song with some snow added in the graphics? Well, then you gonna love this one from Oryx! They just swapped the background of their casino game Sweet N Sour from blurry beach to blurry mountains and called the outcomeSweet N Sour Winter. Very clever. In this "wintery" online casino slot you find on the reels all the things you usually encounter on the slopes of the Alps – bananas, strawberries, lemons, mangos, melons and pineapples. And the après-ski bar serves of course what else than Wild cold piña coladas prepared in a Scatter blender! The gameplay itself is ok though, with Free Spins and Multipliers. But to call this online casino slot Sweet N Sour Winter is a complete miss. But have a look yourself. It's definitely worth it ;)