Here comes the Easter Bunny...no, wait, let's better make some money! Sorry to dissapoint you, but there won't be any cute Easter Bunnies giving away chocolate eggs in our EatSleepBet office, forget it. We have something better for you!
Each and every Easter day, from 14th until 17th April you get to find a sweet bonus in the cashier to ensure this years Easter holiday will be EGGstra-special! Before you start texting your mates to tell them all about this great news, check this Offer on your own first – you don´t wanna let the others hit the jackpot before you do, right? ;)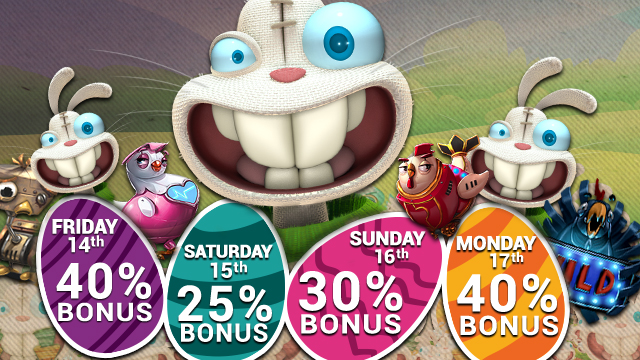 FRIDAY - 40% Bonus up to € 100 / AUD 100
The first day of the Promotion, the weekend finally ahead, and you will already be offered a marvellous Bonus of 40% for your 1st deposit up to € 100 / AUD 100! Sounds like a Good Friday, doesn't it?
SATURDAY- 25% Bonus up to € 200 / AUD 200
Waking up after the party on Friday night, the fun just continues because Saturday morning at EatSleepBet is gonna amaze you with a Bonus of 25% for your 1st deposit up to € 200 / AUD 200. Holy Saturday, you have just made my day!
SUNDAY - 30% Bonus up to € 150/ AUD 150
When enjoying delicious lamb for your festive Sunday lunch, do not forget to log in and get another Bonus from our offer! Wondering if we are serious? Of course, my dear, we just want you to enjoy every spin you make, after claiming a 30% Bonus for your 1st deposit up to € 150 / AUD 150!
MONDAY - 40% Bonus up to € 100 / AUD 100
You are probably thinking that we are done with the bonuses – nope! Hurry up, just spin the reels in an Easter mood with a splendid 40% bonus up to € 100 / AUD 100. We are sure, no Easter treat can be compared to this Great Promotion!
Well, now you know what to expect in terms of Bonuses but do you know which game to tune in to this Easter? Here are some hot tips for you!
Have you heard about EggOMatic? This cool Netent game introduces a creepy egg factory full of robotic birds throwing the eggs around. Becoming scared? Come on, don't be a chicken and try it out!
Are you more of a bunny person? Yeah, we love playboy too, your dirty mind...but we are still talking about games here. Check out what Microgaming has to offer because when it comes to rabbits, these guys have quite a few game titles on the list. Have fun with a mad hare parachutist in Jumpin Rabbit where the bunny flies crazily all over the sky! If that seems too adventurous and you prefer something more chilled, then Lucky Rabbit´s Loot might just be your future favourite! We bet you will love those pastel-painted symbols with an adorable rabbit sleeping on some, accompanied by gentle, soothing tunes!
Still not tired of all the rabbits? Awesome, we are getting to the coolest Easter game in our Casino, Wonky Wabbits! Try this Netent game out and we guarantee that you'll have no regrets. Spinning with crazy hares who appear after every Wild symbol will provide you with loads of fun on the 15 bet lines! If you are lucky enough, the total of 14 Wild symbols will appear together with the winning symbol! What´s more, these lines are doubled as the game offers you with both way wins! Awesome, isn´it?
Congrats, now you're egg-cellently prepared to hit Easter madness! Don´t miss even a day of our glorious Easter Bonus package, choose your favorite Easter game and hippity hoppity winning you go!