Are you from the generation which could find all the excitement of playing casino slots back in the days only in spinning lemons, melons, cherries and, if you were lucky enough, in enjoying the game with an "exciting" wild symbol? We feel with you, brother. Luckily, things have changed and nowadays online casino slots offer a whole different gaming experience. Let's take a moment and have a look at some of the most popular slots from the king of the kings on the battlefield of online game providers when it comes to graphics and overall look of the slots – the almighty Betsoft! Try the following online casino slots, all to find at EatSleepBet Casino and you too will be left with the question: Am I still playing video slots or watching a 3D movie?
Green goblins try to steal good ideas from the wise elves in the middle of the mysterious forest in this Betsoft online video slot and we invite you to join the fun full of shiny coin wins. As mentioned above, Betsoft excels in their graphic skills, so the cute animations will be the first thing which catches your eye. Nevertheless, the gameplay itself is far from less entertaining. Apart from the fact, that the maximum win is 1.2 million coins (Yes, sweetie - ONE POINT TWO MILLION), the online casino slot Greedy Goblins contains the popular bonus features like Double Up, Sticky Wilds or Free Spins. Further excitement starts, when the Book of Secrets bonus game is triggered and you find yourself stealing innovative ideas from smart elves with your fellow green goblins. Are you often green with envy watching other players' big wins at EatSleepBet Casino? Great! Then the online video slot Greedy Goblins is the perfect casino game for you!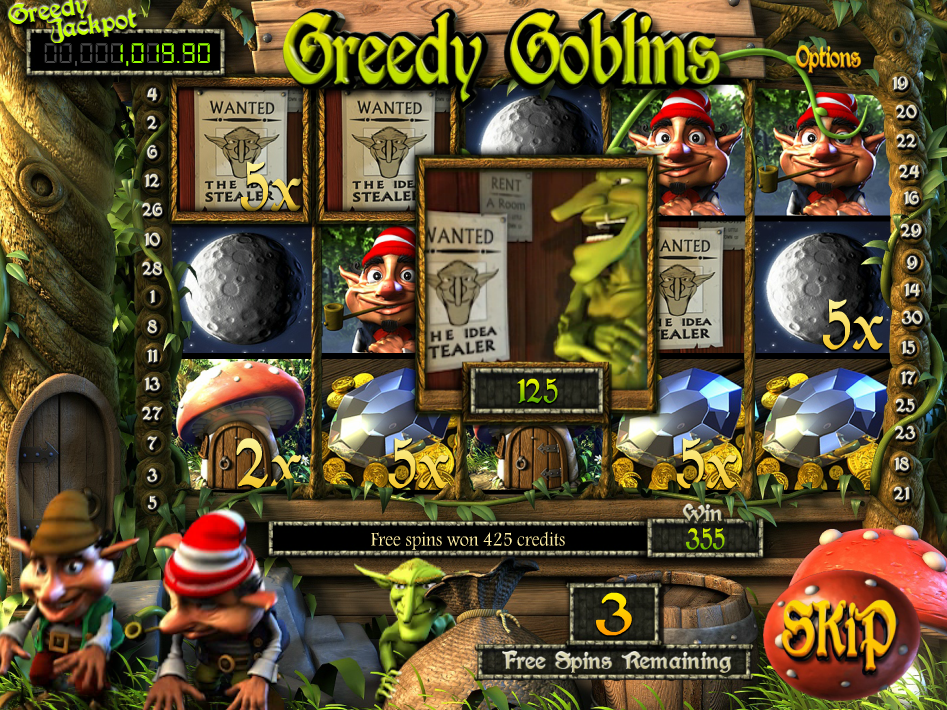 From Goblins to a lucky Irish leprechaun in another Betsoft online video slot - Charms and Clovers. Yes, you guessed it right. This online casino game is full of pots of gold at the end of the rainbow and horseshoes bringing you luck. But the best, what this 6 reels, 40 paylines slot has to offer, is with no doubt its bonus games. You read it right! Not a bonus game but bonus gameSSS. Not 1, not 2, not 3, but … wait for it … 4 bonus games! In Money Wheel you get a chance to spin a special wheel of fortune and multiply your winnings up to 40 times, plus having a shot on grabbing one of the 3 progressive jackpots. Find four Mega Symbols on the additional 6th reel to start the Mega Symbol Bonus Game rewarding you with 8 free spins with the expanding mega leprechaun symbol. Trigger 8 free spins in the Pots of Gold bonus game and play with three extra wild symbols added to the reels. So far too difficult for you, dummy? Then the Golden Bonus might be more your speed :P Just pick one of the golden pots and multiply your winnings up to 20 times. Understood? Hallelujah!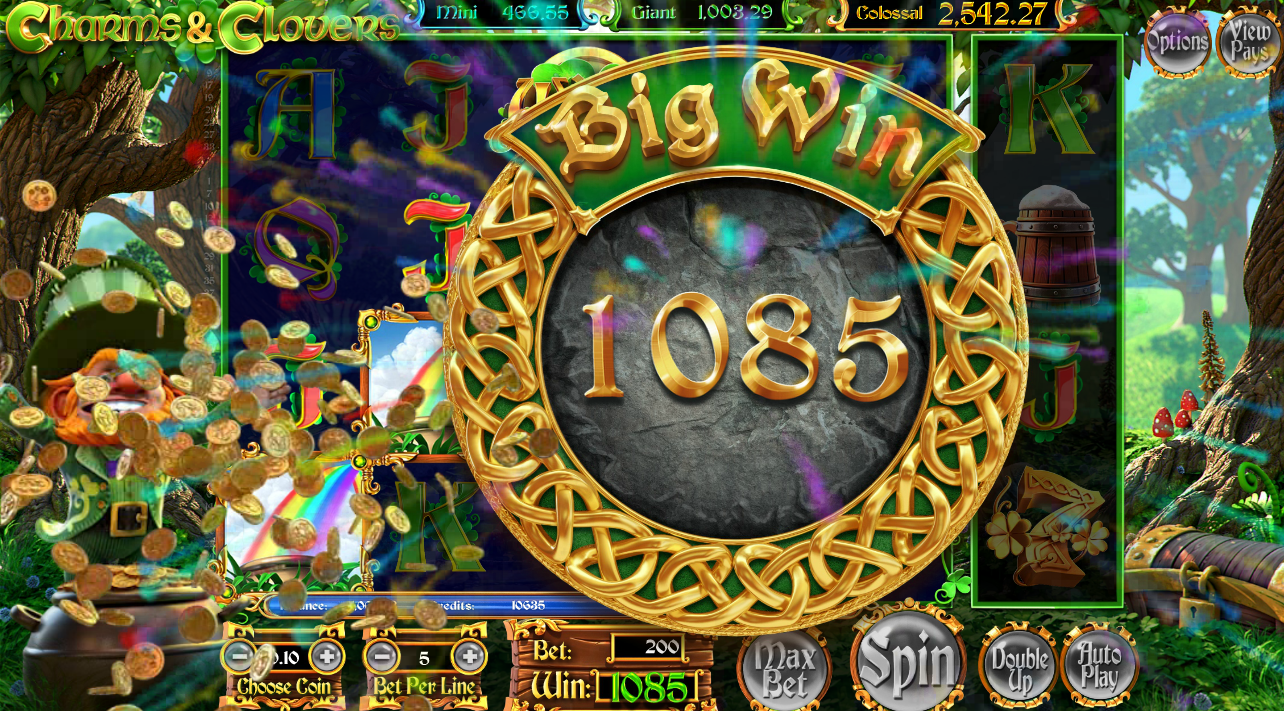 Which one is the video slot with the best intro ever? We've got the answer! Online casino slot 2 Million BC from Betsoft beats all the other casino games with its movie like visuals. Grab a friend and embark on a journey through the jungle in search of diamonds. But be careful, seeker, as the jungle isn't always as safe as it seems… This could be the adventure of your life time. But what is more important - the chance that you will return from this trip with your pockets packed with cash is sky high, thanks to 30 paylines and maximum bet of €150. Spin it with fun Stone Age symbols like cave paintings, jewels, sabre tooth tigers, cavewomen and much more to discover which combination triggers the free spins or the bonus game, in which you must be brave and steal the diamond from the sabre tooth tiger in different scenarios. So don't be a pussy … cat and spin it on Betsoft's online video slot 2 Million BC. Ooga Chaka!
Eager to know about other online casino games with amazing graphics? Read the 2nd part of the blog post HERE!